News
Smart4Health project leaders meet at Belval
May 28, 2019
On May 15-16, Smart4Health leaders met to exchange on the latest progress and work plans in this ambitious new international EU project. As one of three Luxembourg partners, ELIXIR-LU hosted the event and discussed its plans for realising 'data donations' from citizens to researchers in Europe with help of the research infrastructure ELIXIR.
Altogether, the Smart4Health (S4H) consortium was awarded 21.8 Mio € of grant funding from the European commission's H2020 programme to create a prototype exchange for electronic health records for Europe and beyond, in the next four years. In the visionary S4H approach to this challenge, citizens (as individuals) will not only own and manage their own data - citizens will also engage at all stages through their input in 'co-creating' the mobile applications and tools platform that can make this happen. The Luxembourgish information technology company ITTM S.A. plays a central role as a development partner in this project and the Luxembourgish Stiftung Hëllef Doheem (SHD) will provide caregivers' experiences and knowledge.
Curious? You can check-in on ELIXIR-LU's progress on this exciting new endeavour through ELIXIR-LU news, or follow Smart4Health on Twitter. To learn more about participating in the project you can also contact the coordinators directly (email: info@smart4health.eu). Initial application scenarios focus on the varied situations encountered by citizens plagued with occasional back pain but everyone is welcome.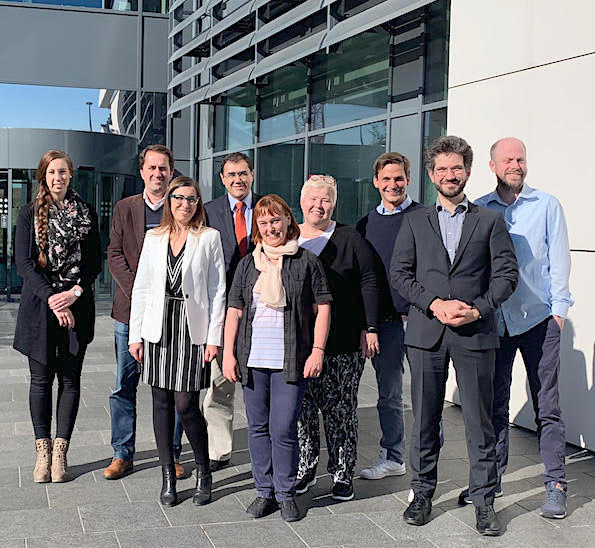 Smart4Health WP-representatives @Belval (left to right):
Tina Boersma (UKA-DE); Afonso Duarte, Maria Marques, Ricardo Goncalves (UNINOVA-PT: coordinators of the project); Dietlind Gerloff (ELIXIR-LU); Ulrike Felt (Uni Vienna-AT); Gabriel Sieglerschmidt (HPHS-DE); Attila Wohlbrandt (HPI-DE); Christian Weiß (for Data4Life-DE).
Go back to the news